"A totally delightful, engaging, artful performance."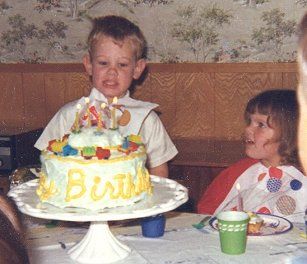 Tom's 4th birthday party
Looking to delight your child and guests at a children's party?  Tom Knight will come to your home and perform the same show he does for larger audiences, only now there will be more audience participation and room to accommodate special requests. Contact Tom now to find out his availability and pricing.  
Radius: within two hours of Northampton (includes Boston).  Booking a party further way may be possible, if Tom is doing a puppetry tour in your region at that time.
Age: Parties are best for children turning 3 years old and older.  A party for a two year old is fun too, as long as there are older children around. 
Length: The best length is about 45 minutes, but shorter shows are possible for very young children.
Location:   Unless there are exceptional circumstances, shows will take place inside to minimize the distractions that happen in the outdoors.
Participation: Kids tend to have the most fun if the adults watch and participate too.
Scheduling: The best time to schedule the show is 30 minutes after the start of the party, and before the cake and presents.
Set-up Time: Tom needs 60 minutes to load in and set up and 45 minutes to break down (set up and break down happen without disruption to the party). 
Payment: A 50% deposit is due at the time of booking; the balance (check or cash) is due on the day of the show.
Cameras: You may record the show using cameras and snapshots!